The HumanCharger is a bright light device that is intended to help you improve the winter moods as well as the effects of jet lag.
This product provides these benefits in a quick, 12-minute application of light into your ears. It is easy to take with you so you can use the product at any time that is convenient for you, whether traveling or at home.
Guarantees
30-day Money Back Guarantee

To ensure our customers' satisfaction, we provide a 30-day, money-back guarantee.

2 Years Warranty

We provide 2 years warranty on our product regarding manufacturering faults.

Save Energy

Compared to other bright lights, the HumanCharger only uses a fraction of the energy.

Less Recycling

With this new version we have saved 80% packaging material.
HumanCharger Bright Light Headset
Regular price

Sale price

$200.00
The HumanCharger Bright Light Headset is a quick, effective and convenient way to get your necessary daily dose of light:
Only 12 minutes needed for an effective light dose
Very convenient and easy to use
Easy to carry so you can use it anywhere you like
Comes in a nice box with a carry pouche
Rechargeable with 12 sessions per charge
Features Light

The duration of the light therapy session is a quick 12 minutes
It provides an average light intensity >10,000 lux (1 cm)/ >3.5 lumen
One battery charge lasts at least 10 light therapy sessions
Benefits

Increased energy levels and mental alertness
Improved winter moods
Reduced jet lag effects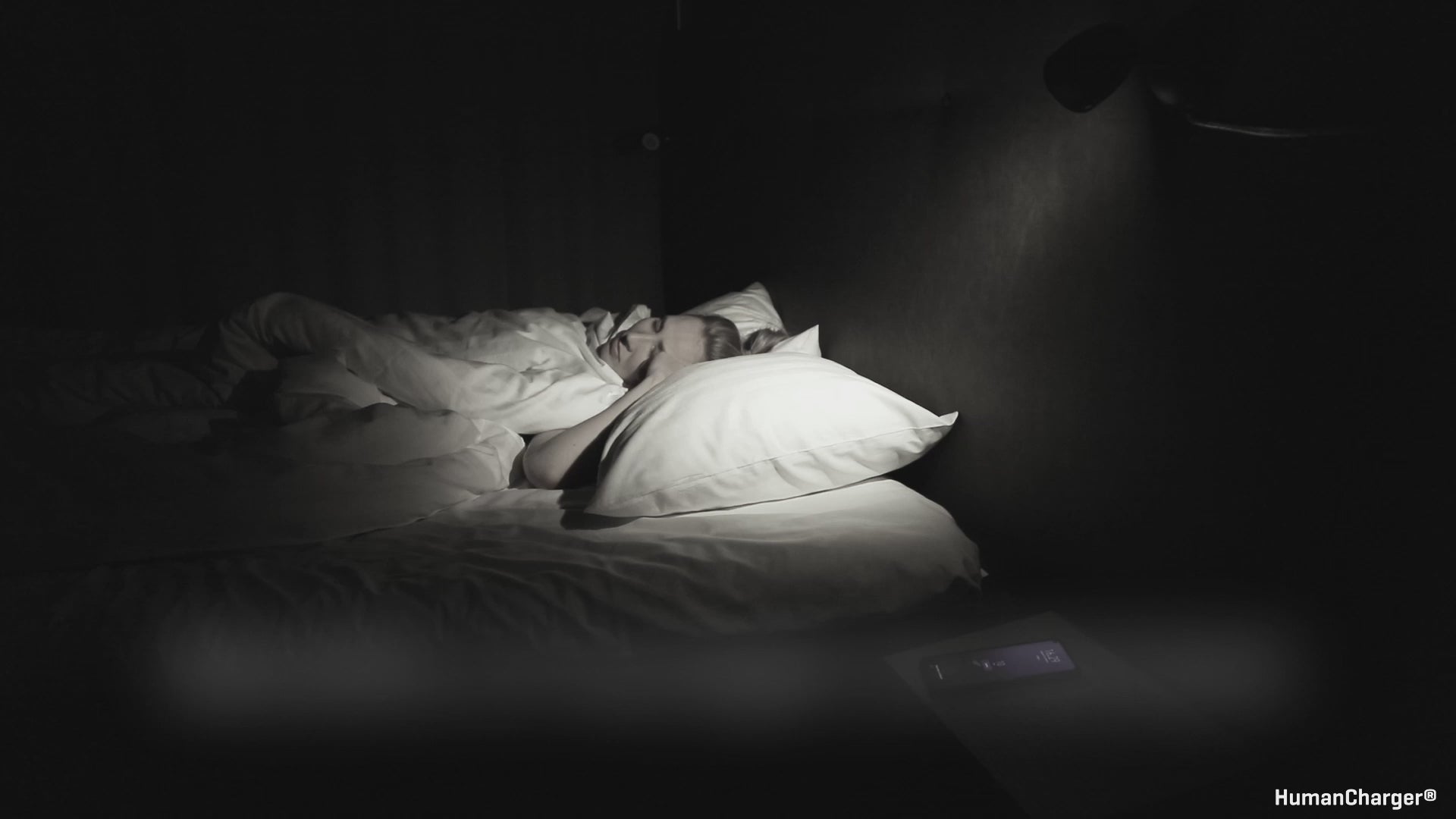 Testimonials
As a rotating shift worker, the HumanCharger keeps me adjusted to the different hours I must work. I've now bought a second HumanCharger for my wife who feels it gives her much more energy to deal with the long, stressful hours she works as a physician.

D.P. (Indiana, USA)
For my entire life, I have suffered from the "winter blues". Neither light therapy lamps nor medications helped but finally, the HumanCharger worked wonders for me.

Jan (Denmark, Europe)
I recently traveled from Europe to China and using the HumanCharger enabled me to sleep like a baby and have energy every day.

- Lucian (France, Europe)
I love this product! I am a shift worker who lives in Alaska and the HumanCharger helps with both the change in hours I work as well as the lack of sunlight we have during our shortened days.

J.S. (Alaska, USA)
Thank you! I LOVE this little, simple device because it helps me get through the days of limited sunlight with a lot more energy.

J.R. (Canada)
Having bought your product from Union Square in Aberdeen, I'm amazed at how my sleep pattern is so much better along with my mood. I work inside an oil rig in the North Sea as a steward, where there are no windows and I see no natural light for 2 weeks. Im away offshore tomorrow and looking forward to see how my mood changes offshore. Many thanks, so far big improvement for me.

- W. A. (Scotland)
The results I have had so far have been nothing short of incredible. All my life I woke up naturally only when the sun comes up. Obviously, this is only acceptable when the sun comes up earlier. When I have to use an alarm or arise when my wife goes to work before the sun is up, I am tired and and my brain is in a fog all day. Within two days of using the Humancharger, I now wake up without an alarm one and one half hours before the sun comes up. My wife says this is the first time she remembers this happening in years and that is a long time since we have been married 34 years.

- J. H. (Utah, USA)